Twenty-four Green Valley and Sahuarita residents who have collectively lived more than 2,400 years were recently visited and honored by members of Posada Life's Centenarian Committee.
Grace Thompson, born on June 18, 1917, is 104 and was honored on her birthday as the oldest in this year's group of residents who have reached 100 or will in 2021. The night before her birthday, she enjoyed Karaoke at Arizona Family Restaurant's Easy Street lounge, and the night after she enjoyed another party at the 19th Hole.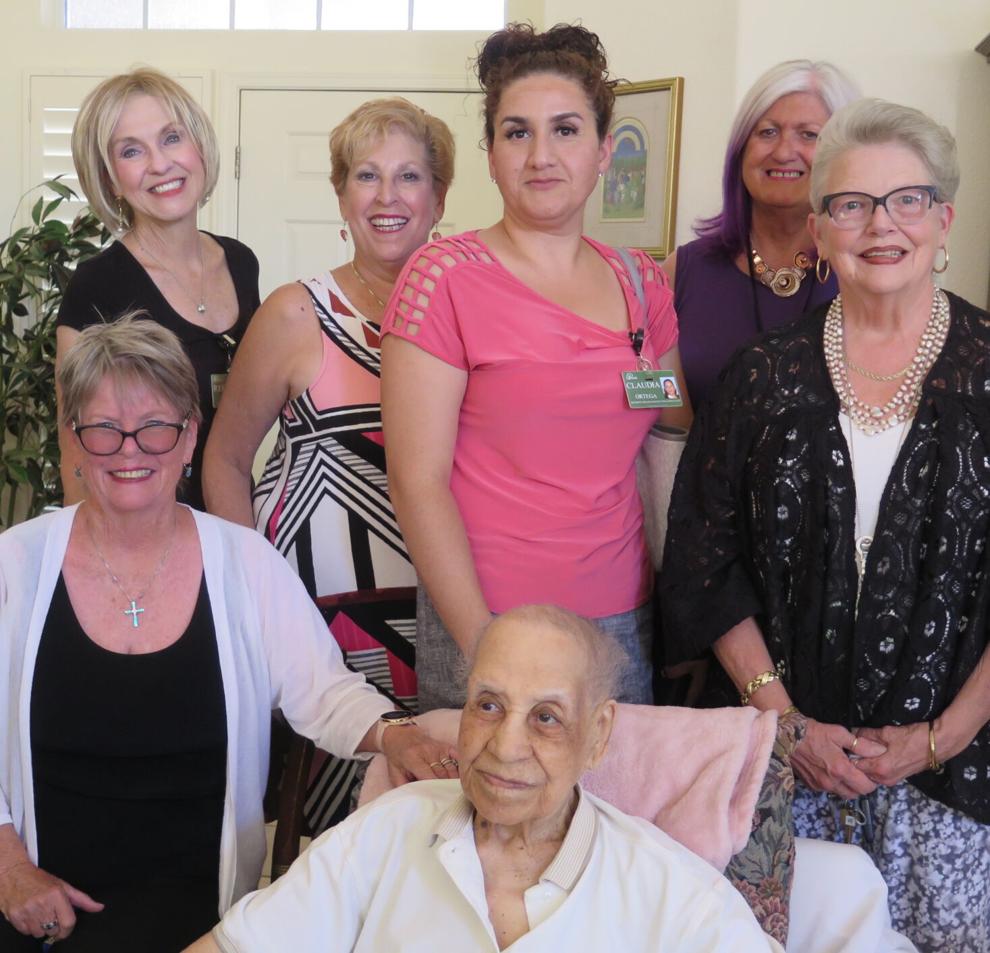 Other centenarians who are older than 100 include Evelyn Hedlund (103), Karl Leebrick (102), Gordon Barnett (102), Eleanor Crawford (102), Frances Melton (102) and Cora Jones (101).
Nathaleen Bristol, born on September 24, 1921, will be 100 on her coming birthday and is the youngest of this year's centenarians. Helen Kania, born on Sept. 22, 1921 is two days older, and Rose Wheeler, born on Sept. 20, is four days older.
Each centenarian was visited by members of the committee — Ellen March, Barbara Salazar, Claudia Ortega, Regina Ford, Joyce Finkelstein, Mary Fisher and Ellen Sussman — and honored with a festive "100" balloon, a gift basket with a personal bundt cake, a chocolate bar, a handkerchief, a faux plant for the men and a faux flower for the ladies, a congratulatory certificate and letters from elected officials: Congresswoman Ann Kirkpatrick; County Supervisor Steve Christy, District 4; and Debbie Kenyon, president of the Green Valley Council.
Regina Ford and/or Joey Lessa sang to each centenarian.
Ellen March, director of the Posada Life Community Center, said the centenarian celebration has been her favorite event since the first one in 2009.
"Every year our committee has been able to honor these 100-plus-year-olds, many of them several times, in a beautiful luncheon event. This party was cancelled in 2020 and didn't look promising in 2021 due to lingering pandemic issues," March pointed out.
"The committee decided to take the party to the centenarians this year. Gift baskets and balloons were delivered and songs were enjoyed. All committee members were vaccinated and visits lasted no more than 15 minutes.
"Now we are faced with the question of what format we will use in 2022 and beyond as everyone felt this year was an unqualified success," March explained.
Best bits of advice
Jim McGraw was a bit hesitant about being honored, but after meeting members of the Centenarian Committee and having Regina Ford and Joey Lessa sing to him, he didn't want them to leave.
At La Posada, Karl Leebrick shared his tips for living a good and long life.
"Avoid stress and keep doing what you enjoy," he advised. He'll be 103 on July 28 and continues to volunteer a few days a week fixing and touching up furniture at La Posada's Vensel Treasure Shoppe.
Bettie Thayer also volunteers at the Vensel Treasure Shoppe where she's been a familiar face for several years. Lynn Mueller's advice for enjoying life at all ages is to have good friends and especially now.
"When family members live far away, it's very important to have good friends close by," she said.
Frances Melton will be 103 in December. She walks without any aids and has a cheerful sense of humor. Asked about her long life, she said, "I didn't smoke or drink."
At 101, when Marian Prucha was asked about her longevity she quipped, "It's about having a good attitude — and getting out of Michigan!"
At 102, Gordon Barnett attributed his longevity to a happy life with his recently-passed wife Sara and the people he's surrounded himself with.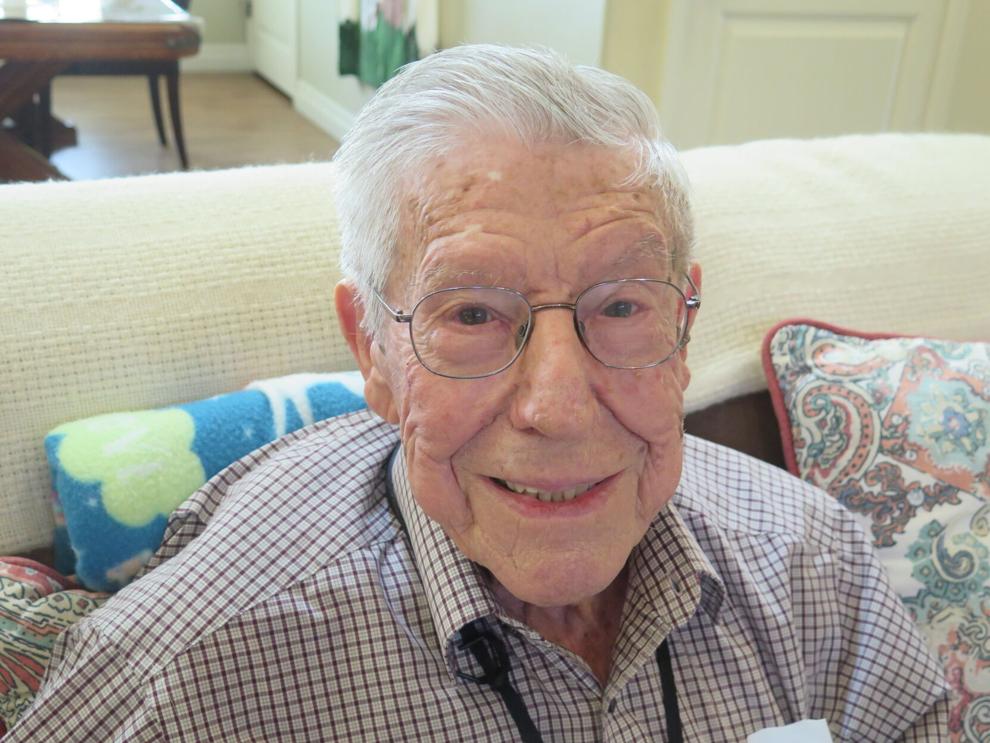 "Life has been good to me. I served in World War II and was at the Battle of the Bulge. I got a Purple Heart and went on an Honor Flight trip." Teary-eyed, he used the handkerchief in the gift basket to dab his eyes.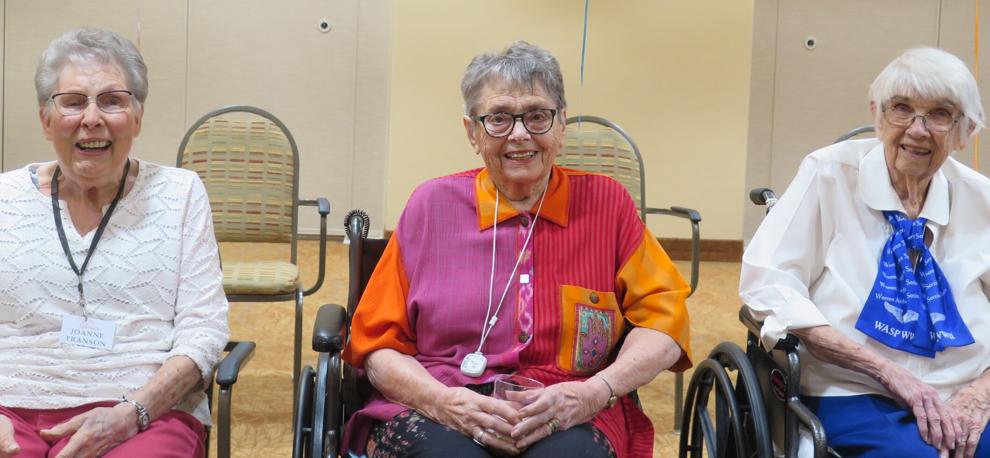 Edith Smith joined other centenarians to be honored at La Joya Assisted Living at La Posada. Her daughter Keith Rubin e-mailed this note: "I want to thank you all for the wonderful celebration that you had today for mom and the other residents. She loved every minute of it from the decorations, balloons and refreshments to the gift baskets and entertainment.
"She said it was so much fun and made her feel so special. She loved having a reason to get dressed up and put on makeup. Thank you, thank you, thank you. It meant so much to her and to us."
NOTE: Punky Griggs, who turned 100 in March, passed away on July 6, 2021.