Games played Jan. 24-29, 2020
Jan. 27: Bill Seavecki (HR), Kelly Brown, Bruce Scandling and newcomer Craig Witt powered Hickey Automotive's 12-11 game one victory over Insurance Center of Green Valley. Insurance Center's Steve Aiken, John Beers and Danny Coleman came up huge at the plate in game two, leading them to a 17-15 win.
Afternoon: 3½ Happy Barbers issued league-leading Two Girls Pizzeria their first sweep of the season, 17-16 and 12-3 triumphs, behind the sizzling bats of manager Lamar Troutman, Tom Trecker, Brian Kelley (HR) and Norm Friedman. Top hitters for the pizza makers were Chuck Borozinski, Bob Dibble and pitcher Rick Keagy.
Jan 29: Hickey Automotive overhauled 3½ Happy Barbers 25-19 in game one with Charlie Tarjan, Bruce Scandling and Bill Seavecki (HR) perfect at the plate. The Barbers unveiled the long ball in game two, shearing Hickey 17-12 behind 3 round-trippers from Jim McDaniel and 2 from Vince Robinett.
Afternoon: Two Girls Pizzeria swept Insurance Center of Green Valley 16-14 and 15-9 behind steadfast defense from Paul Kotan and Jeff Hansen while Kotan, Rick Hoen and Albert Gong powered Two Girls' offense. Ed Clark, Russ Henegar and Gary Peelman (HR) were leading hitters for Insurance Center.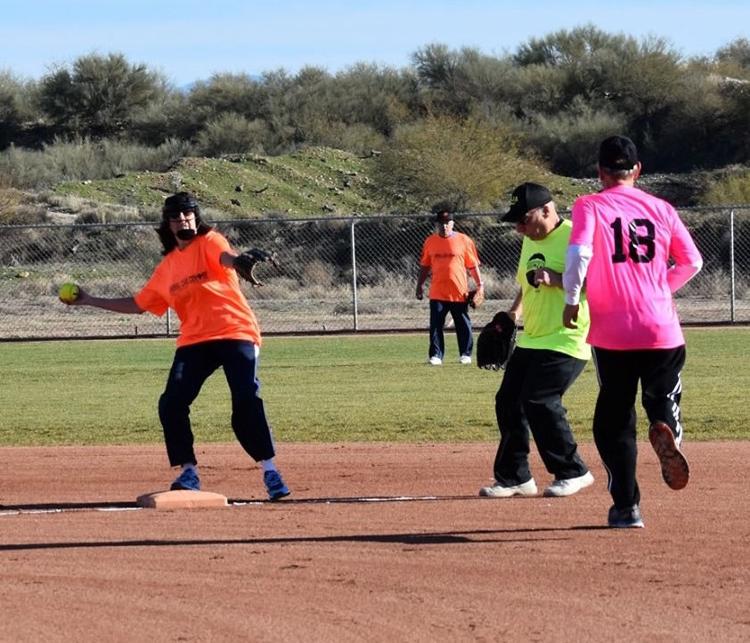 Jan. 24: There was outstanding hitting and superb defense from all teams in both games. Shawn Smith REMAX's Joe Bieschke and Penny Durgan (grand slam) went 5-for-5 in game one, as did Premier Properties' Tom Puzio and Animal Care Center of Green Valley's Dave Fehringer. Fans cheered as Mark Haskoe from Shawn Smith REMAX and Premier Properties' Brad Beaver turned multiple double plays, and they roared as Al Clayton from Animal Care Center had another of his patented over-the-shoulder catches in the outfield.
Game two had 5 players going 5-for-5; Shawn Smith REMAX's Joe Bieschke, Mark Haskoe and Pete May, Animal Care Center's Dave Fehringer and Premier Properties' Brad Beaver. while Premier Properties' rookie Jacqui Gillen went 7-for-10 on the day. Outstanding defensive plays were made by Shawn Smith REMAX's Penny Durgan and Paul Klouda, Premier Properties' George Heatherington and Brad Beaver, and Animal Care Center's Dave Fehringer and Donna Harrison.
Shawn Smith REMAX had two victories on the day, earning 6 points off 31 runs, while Premier Properties (11 runs) and Animal Care Center of Green Valley (10 runs) both had a 2nd and 3rd place finish earning them each 3 points on the day.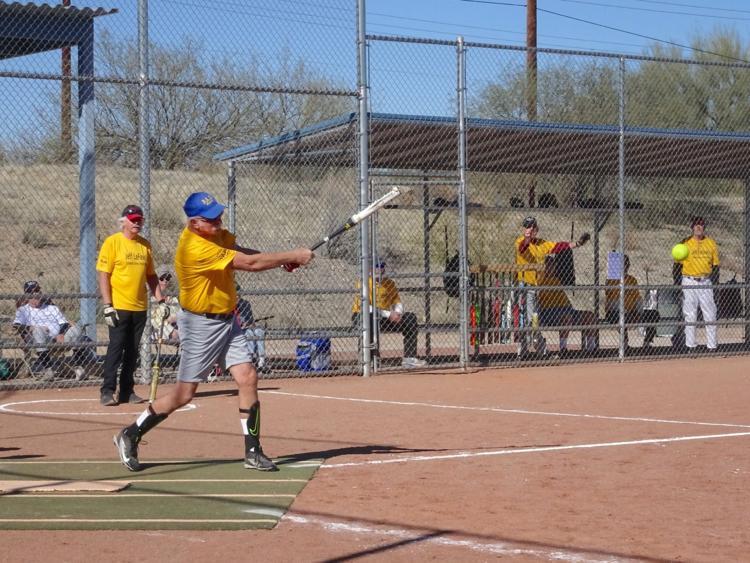 Jan. 24: Scott Chancellor Realty Executives and Jeff LeFave's Edward Jones Investment split their double header. Chancellor's won game one 14-12 behind big hitters Terry Emmett, Dave Hyslop and Bob Berry. Rookie Kurt Jorgenson led the defense, tossing out two from his catcher's position. LeFave came through in the clutch in game two scoring 6 in their last at bat to earn the split, 18-12.
Afternoon: Quail Creek Country Club took two from Cornerstone Wealth Management, 16-14 and 17-5. Quail's Rich Malinowski dominated on defense at shortstop while going 5-for-7 (2HR) at the plate. Rich got help from Karl Bartholomy's 6-for-7 bat and Dennis Dion's rifle arm at third base.
Jan. 27: Health Insurance Solutions took the first game in a defensive thriller 9-8. Quail Creek Country Club got their revenge in the second game 12-0. Big Health Insurance hitters included Greg Schoenberg, Alan Welsch, Mark Hess and Chas Palacios. Quail pitcher Ron Garrett anchored the defense with help from first baseman Alan Anderson (5-for-5 at the plate).
Afternoon: Cornerstone Wealth Management and Scott Chancellor's Realty Executives played a genteel twin bill. The alternating home teams each graciously allowed their guests to score big in their final at bats. Realty won game one 18-13 by scoring 8 in the 7th. Cornerstone took the second 21-20 by scoring nine. Craig Burgess' 3 home runs paced Chancellor with help from Marty Camacho's hot bat and Super-Sub Donna Harrison's bat and glove. Steve Terrell had key hits for Cornerstone.
Jan 29: Jeff LeFave's Edward Jones Investments swept Cornerstone Wealth Management 19-8 and 19-15. The return of shortstop Dave Lee sparked LeFave, plus big days at the plate by Ed Karnes, Bob Udell, Bob Moss and Tom Phelps. Udell's middle infield defense led to numerous double plays. Cornerstone got big games from Mike Catterton, Bob Epstein, Deb Sequin, Tim McLay, Tom Kennedy and Jim DeWilde.
Afternoon: Longhorn Grill & Saloon and Health Insurance Solutions split the afternoon's contests. Longhorn took the first 13-12 for their first win of the season. The Insurers retaliated, taking the second 18-3. Charlie Drake, Jenny Perkins and again Super-Sub Donna Harrison had big days for Health Insurance.
BAJA Senior softball is played every Monday, Wednesday, and Friday from 9:30 a.m. to 3:30 p.m. at the Canoa Preserve (County) Park – Chuck Catino Softball Complex in Green Valley. For more information on BAJA softball, go to www.bajasportingclub.com
| | | | |
| --- | --- | --- | --- |
| Team | Wins | Losses | GB |
| Two Girls Pizzeria | 12 | 4 | 0 |
| 3 ½ Happy Barbers | 8 | 8 | 4 |
| Hickey Auto | 7 | 9 | 5 |
| Insurance Center of GV | 5 | 11 | 7 |
| | | | |
| --- | --- | --- | --- |
| Team | Wins | Losses | GB |
| Quail Creek Country Club | 12 | 2 | - |
| Jeff LeFave's Edward Jones | 11 | 3 | 1 |
| Scott Chancellor Realty Execs | 7 | 7 | 5 |
| Health Insurance Solutions | 7 | 9 | 6 |
| Cornerstone Health MGT | 6 | 10 | 7 |
| Longhorn Bar and Grill | 1 | 13 | 11 |
| | | | |
| --- | --- | --- | --- |
| Team | Runs | Points | PB |
| Shawn Smith REMAX | 73 | 17 | - |
| Animal Care Center of Green Valley | 33 | 11.5 | 5.5 |
| Premier Properties | 23 | 7.5 | 9.5 |