As cooler temperatures in Southern Arizona signal the coming of fall, it's a great time to bring the warm colors of the changing season into our homes. Autumn is traditionally harvest time when we reap what we planted in spring. It's an opportunity to gather nature's bounty like colorful pumpkins, gourds, and fall foliage which can inspire creativity as the approaching winter months set in.
Blending natural elements into home décor is an easy way to transform your home into a cozy, inviting space to enjoy with family and friends from Halloween through Thanksgiving dinner.
Barbara Salazar welcomes autumn and mixes her fine china, lead crystal stemware, linen napkins, and silver flatware with stunning organic centerpieces featuring colorful vegetables that add rich color and texture to her dining room table.
"Lovely leaves in fall colors can dress up a table setting too, and using family heirloom pieces like my grandmother's dishes and Haviland china not only brings back memories, but also creates lasting memories for my guests," Salazar says. "I decided long ago that if I was going to keep crystal and fine dishes, I would use them and not just keep them in a cupboard for special occasions."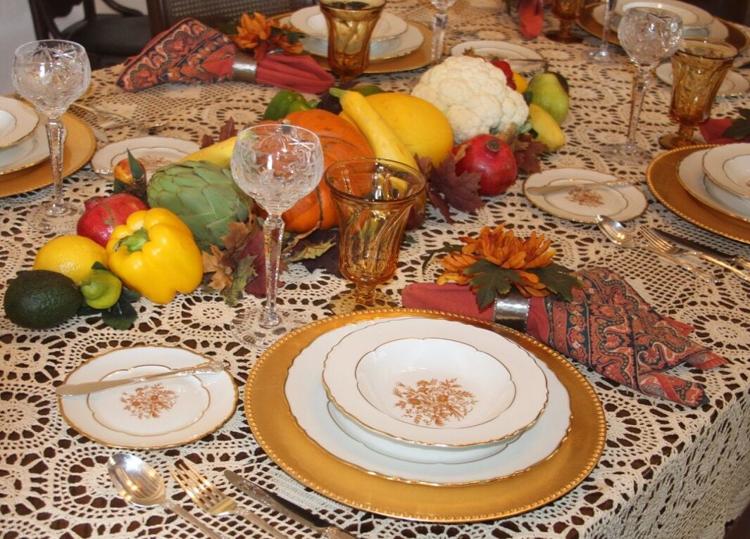 Salazar's home in Amado was built by her in-laws in the late 1950s and features vintage furnishings, antiques, and a blend of modern and period accessories passed down through her family.
"We have fewer and fewer reasons to use formal place settings," Salazar says. "Formal dining rooms are disappearing and with them the beautiful porcelain and china. I know that we live in a fast-paced world and china and silver are really not used any more, but I love sharing pretty things every chance I get."
Plain and pattered linen, ornate table runners and crocheted tablecloths grace Salazar's tables when she entertains. She decorates her napkin rings with flowers or fresh herbs for "an added surprise showcasing texture and color."
"Food, parties, and entertaining were important in my family history and when I use these precious things, I reminisce," Salazar says. "There is a story behind everything."
Salazar's love of gardening means there is always fresh flowers and herbs to decorate her tables.
"I just add the right color plus whatever flowers, or fruit, or vegetables will set the mood of the season," Salazar says. "It's not too difficult to add seasonal things for the appropriate holiday. A centerpiece arrangement of vegetables and colorful leaves from Madera Canyon at Thanksgiving is just beautiful."
With temperatures still warm enough to dine outside, Salazar often entertains on her patio surrounded by flowers and cactus. Her favorite breakfast dishes were given to her by her aunt as a wedding present.
"It's a Japanese breakfast set with a teapot and I just love it," Salazar says. "My aunt and her husband were stationed in Japan in the 1960s and it arrived safely in time for my wedding and I still use it. A centerpiece of colorful fruit is beautiful for any gathering."
Gorgeous gourds
Although pumpkins are traditionally the stars of the fall season, Green Valley resident Carol Signore favors the gourd, so much so she has made gourd art her passion since 2009 and is now an Arizona Gourd Society master gourd artist.
"I started out making the usual beginner's gourd bowels and that interested me for a while, but then I got bored and really started experimenting," Signore says.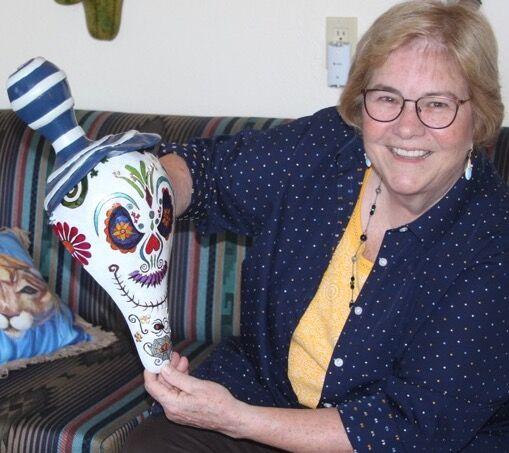 The artist has expanded her creativity and incorporated wood, feathers, beads and other items to make ornate masks and whimsical figures.
Signore says that Arizona desert landscapes as well as the brilliant southwestern sunsets lend themselves to an autumn feel.
A former watercolor artist with Pennsylvania roots, Signore is familiar with using paints, dyes, and various pigments on her gourds. One of her most popular techniques utilizes a special hi-gloss finish she calls "mosaic glaze."
"The glaze results in brilliantly colored gourds that evoke shimmering southwestern scenes and desert sunsets," Signore says.
Gourd lanterns and wreaths are another example of her popular autumn creations.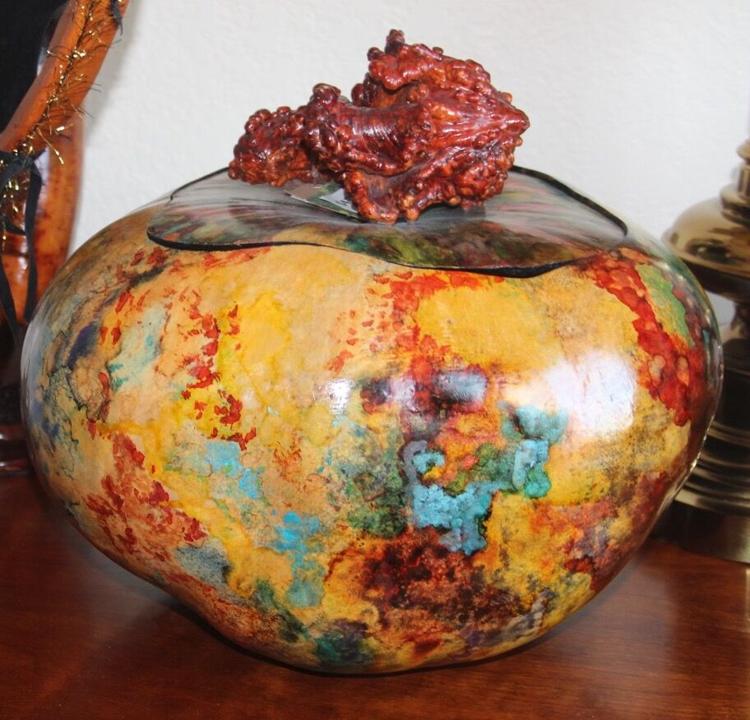 "Cultures all over the world use gourds as vessels, but using a drill to create patterns for light to shine through is wonderful," Signore says. "It's gourd lanterns at Halloween. I don't use pumpkins anymore. I just light up my gourds."
Signore's wreaths are enhanced with feathers, dried vines, grasses and what she calls "exotic frills," and make a welcoming entrance on an outside door.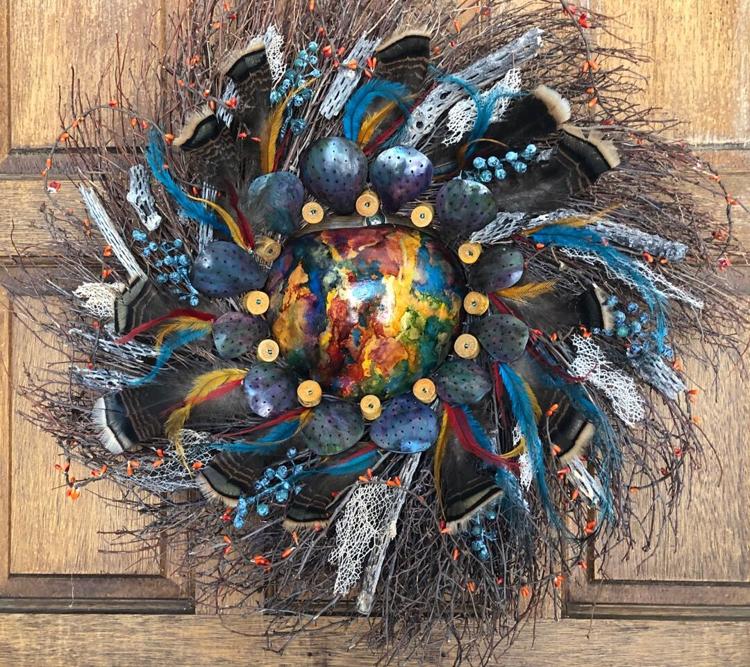 A fan of the traditional Mexican celebration known as Día los Muertos, or Day of the Dead, Signore has created a gourd version of a sugar skull, a symbolic and popular theme among Halloween costumes and a face paint phenomenon.
"Day of the Dead is a wild and wonderful period of time in a family's life, and if you aren't familiar with it you might want to Google the name or watch the movie 'Coco,' " Signore says. "I use an epoxy clay material that's perfect for making permanent enhancements and decorative details and for connecting the various parts of the gourd."
Known for her award-winning gourd masks, the artist has taken images of desert critters like javelinas and created whimsical masks that certainly become conversation starters for her guests during the holidays.
"I teach gourd classes in my studio during the year and I always feels challenged by the opportunity to enhance the unlimited potential and unique beauty of each gourd."