Brian Dean loves that his older Fairways 3 neighborhood — on the far east side of Green Valley — has an HOA that appreciates and allows yard art.
His most recent outdoor project involved building five decorative metal pillars of various heights, each topped with a lovely multi-colored collar of dichroic glass and a terra cotta sphere.
"About a year ago, I found these five old terra cotta spheres in ascending sizes and brought them home, not really sure what I'd do with them. I'm always picking up odd items and usually give them away, but figured these could become some kind of yard art," Dean recalls.
When a friend was moving and getting rid of many yard objects, Dean decided to take the spheres. He held onto them for a year before deciding how to use them.
"I have a friend who is a metal artist, and anything I draw he can make," he explains. After a few sketches, the two men came up with five decorative pillars. The process was easy, as he and his friend work well together, and his buddy is very patient with changes.
Each pillar is set off with its own vibrant dichroic glass collar with a colorful patchwork quilt-like pattern, an idea from Dean's daughter who quilts. And all are topped with a different-sized terra cotta sphere.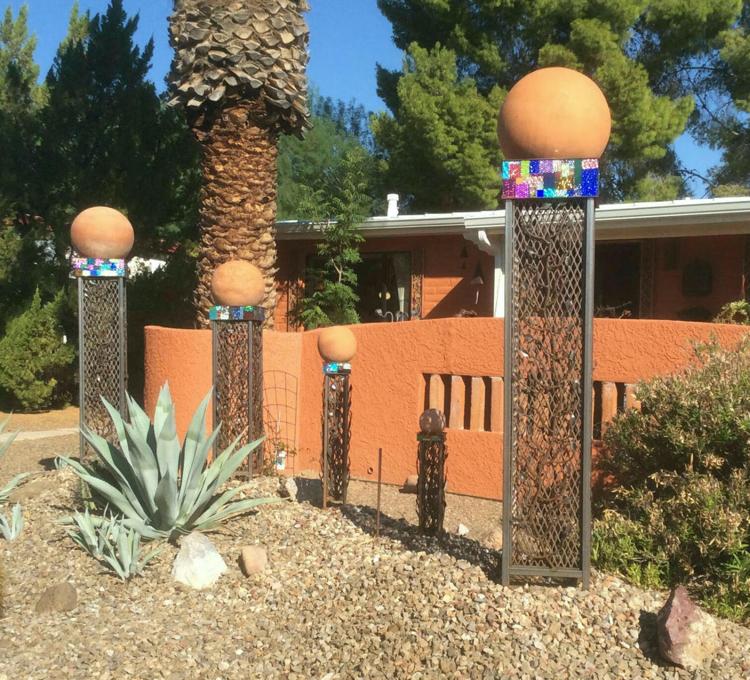 "The pillars were my most recent project. Six years ago I collected five glass table tops and made a project based on the designs in our church stained glass windows," Dean points out.
The terra cotta spheres needed no refinishing. The greatest expense was the dichroic glass, which Dean says was difficult to find since local stores had closed during the pandemic. And he found that anything online was quite pricey.
Since completing his installation, Dean has received several compliments, and some folks take photos of the eye-catching pillars. And, he adds, "a couple likes to walk through my yard and tell me how much they enjoy looking at the art."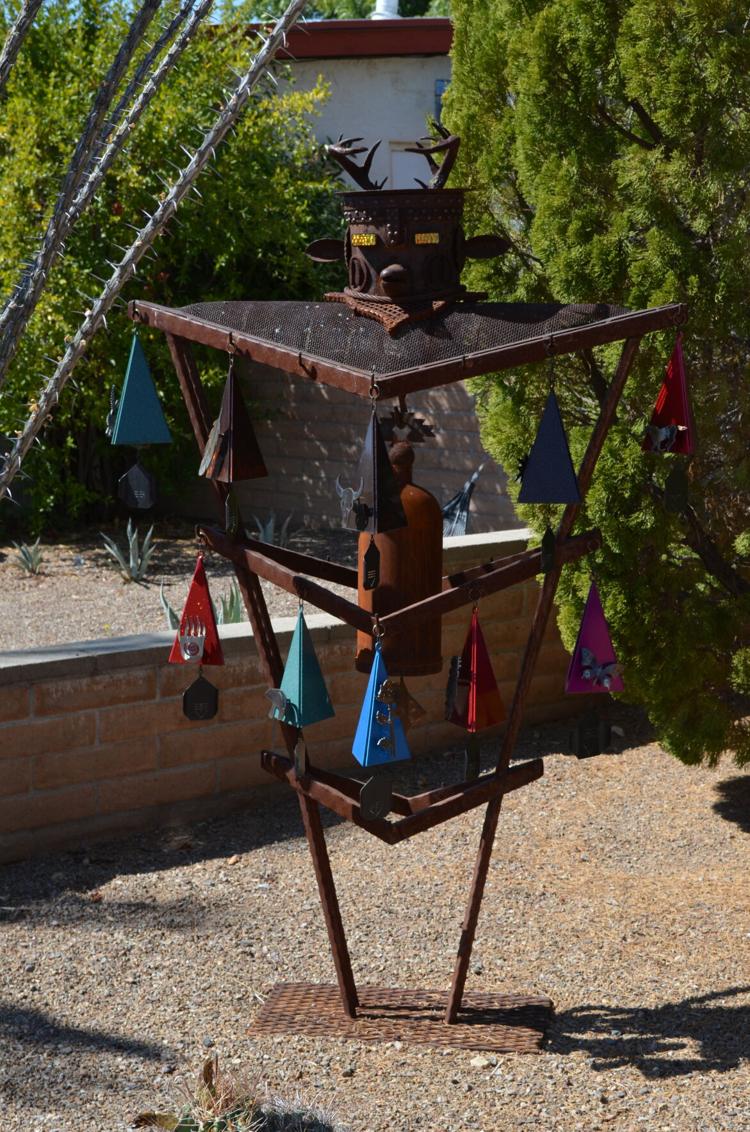 He live a block north of the popular Desert Meadows Park, and likes to think he has a little extension of it right in his own front yard.
" I really don't have much space for additional projects, so I may have to start with my daughter's yard next," he notes.
Colorful, creative yard art is one of Green Valley artist Bambi Peterson Anderson's signatures.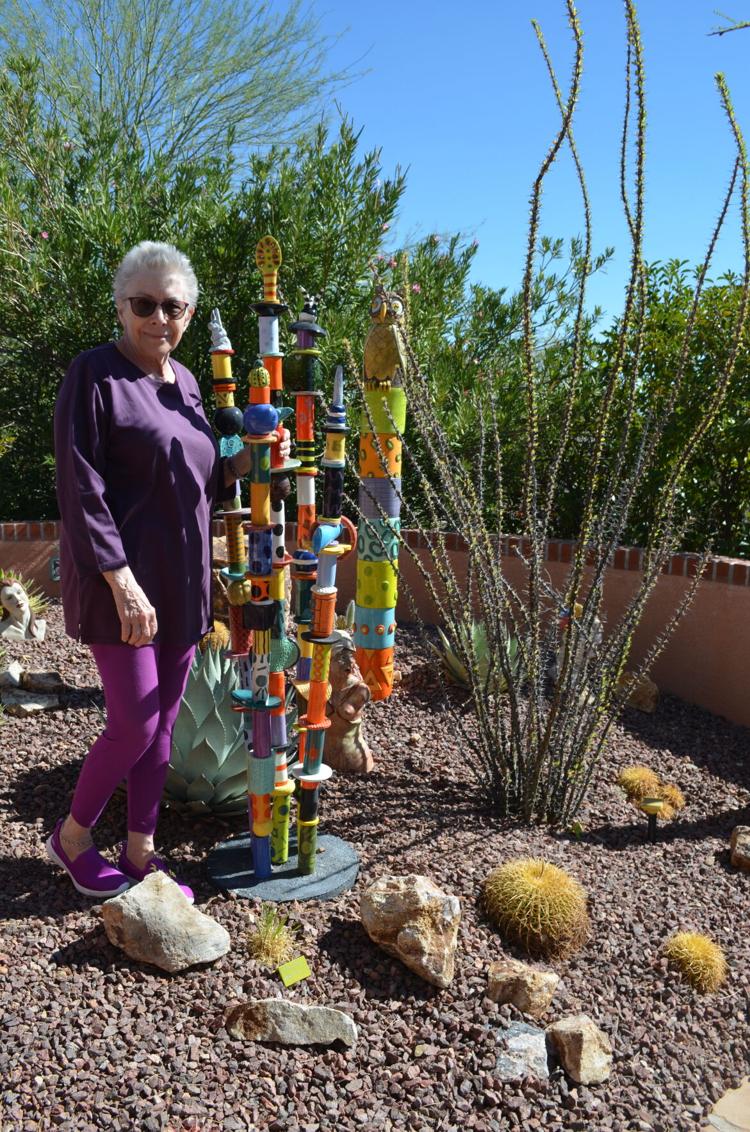 "The totems are mostly made to delight the eye. Lots of color used because that contrasts nicely with the desert landscape," says Anderson, who earned a B.F.A. in fine arts and an M.F.A in fine arts with an emphasis on photography from the University of Minnesota.
Her lively, decorative pieces can be used to stand alone or be combined with plant material as a sculptural unit. Sometimes, she notes, three totems are used together and make quite a statement.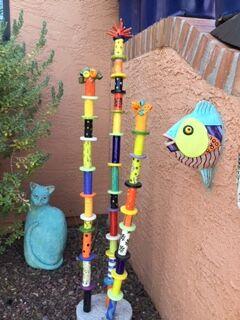 Anderson's go-to materials for her yard art are concrete and rebar, garden stakes, or conduit are used for the totem stands. For the totem pieces, she uses kilned fired clay, and her pieces are all built by hand, not wheel thrown, she explains.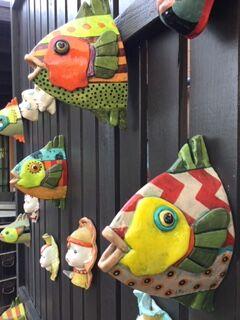 Since COVID-19 hit in March, she's begun to gravitate towards some fun and functional pieces — coasters, tapas plates, luncheon plates, serving bowls — with non-traditional shapes.
Anderson hopes she and her husband, Jim, can resume their yearly studio tour, organized by the Tubac Center for the Arts, next March.
"I have so much product! Two years worth of stuff that will be for sale," mostly smaller, moderately priced, functional pieces," she notes.
"I think, working in my studio, keeps me alive, challenged, and wishing I had more time than I do, in reality, for someone my age. The work keeps me going and wanting to wake up each day and get into the studio and make things!"
In addition, Anderson has an a enormous collection of handled cups. She's been gathering mugs from current "makers," which is what the potters call themselves, for the past six years, and now has more than 1,000 mugs made by more than 1,000 potters.
She's in the process of making a series of chap books of her collection, which will be housed in six or seven volumes of around 200 images each. "That ensures that at least it stays together in one venue, and might be called my legacy," Anderson explains.
"This has become quite a portrait of a small moment in time in the ceramic world and illustrates very well how makers have responded to the events of this world, and how their aesthetics have developed during a small segment of time. The books are quite professional looking, and I should be finished with all the volumes by years and or the early part of next year."a