It started when young Lynn Lyon was growing up in her native Scotland. She remembers always enjoying collecting a little piece of art here and there.
It was a passion that stayed with her when she came to this country 57 years ago. Later, when her husband, Ken, retired early, the couple sold their three-story home in Michigan, and "off we went to meander around the U.S. as the spirit so moved" in their compact RV, she points out.
"On our trips, instead of collecting something small, like thimbles, we collected art. And though we started small, before we knew it we were hanging large paintings in our small space," Lyon says.
Fast forward 20-plus years, and the Lyons' RV was aging. The couple decided it was time to settle down in a small house.
Coming from Great Britain, Lyon says, "we fell in love with Green Valley. The sun shines, it's lovely. We're very happy here. We laugh a lot!"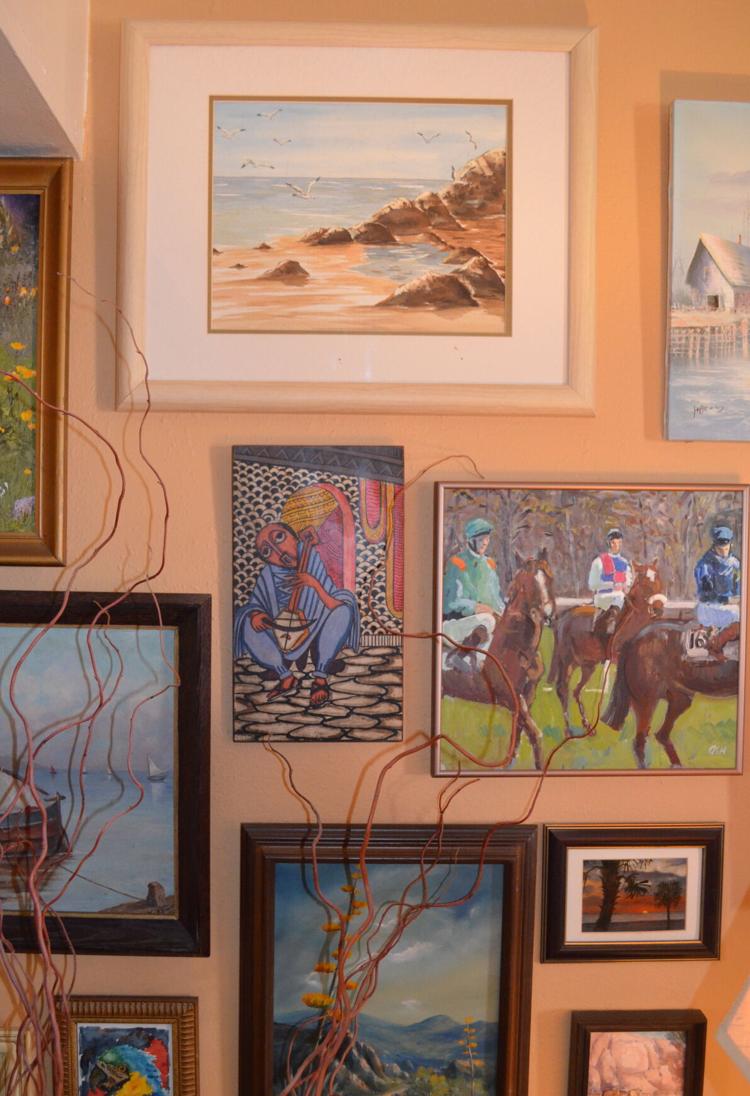 They found the perfect fit in Green Valley's Villas East, moving into a one-bedroom villa which they've filled with — of course — many pieces of colorful, eclectic art they collected over the years.
"We were so used to it being part of our lives that we decided to keep all the pieces. So, for the past eight years, we have been living in 588 square feet in the company of over 110 pieces of art, mostly paintings!" she says.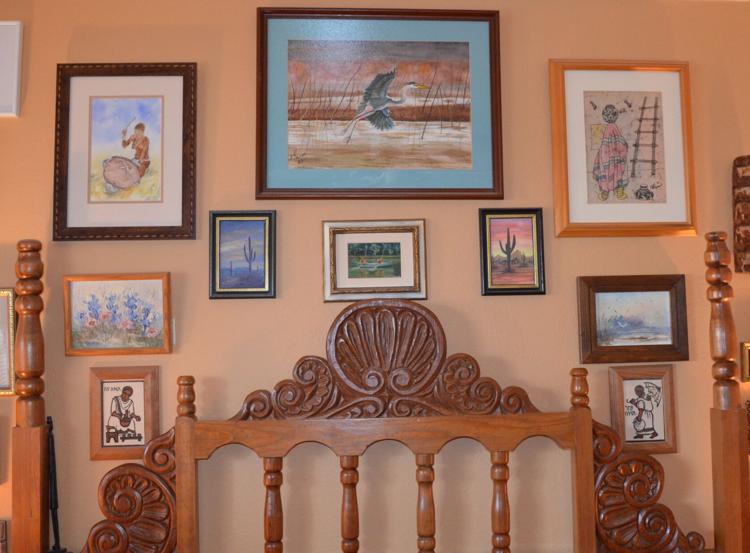 "My husband and I love our small home. We have no one behind us or in front. In fact, I look out my kitchen window at my own 'private woods' and don't even hear the traffic passing on I-19!"
On the Lyons' living room wall, 34 paintings of various sizes and subjects have been artistically arranged. More pieces fill the couple's bedroom walls. Wide-ranging subjects include a snow scene from New Mexico, a Florida lighthouse, California grapes, and a scene from Mardi Gras in New Orleans.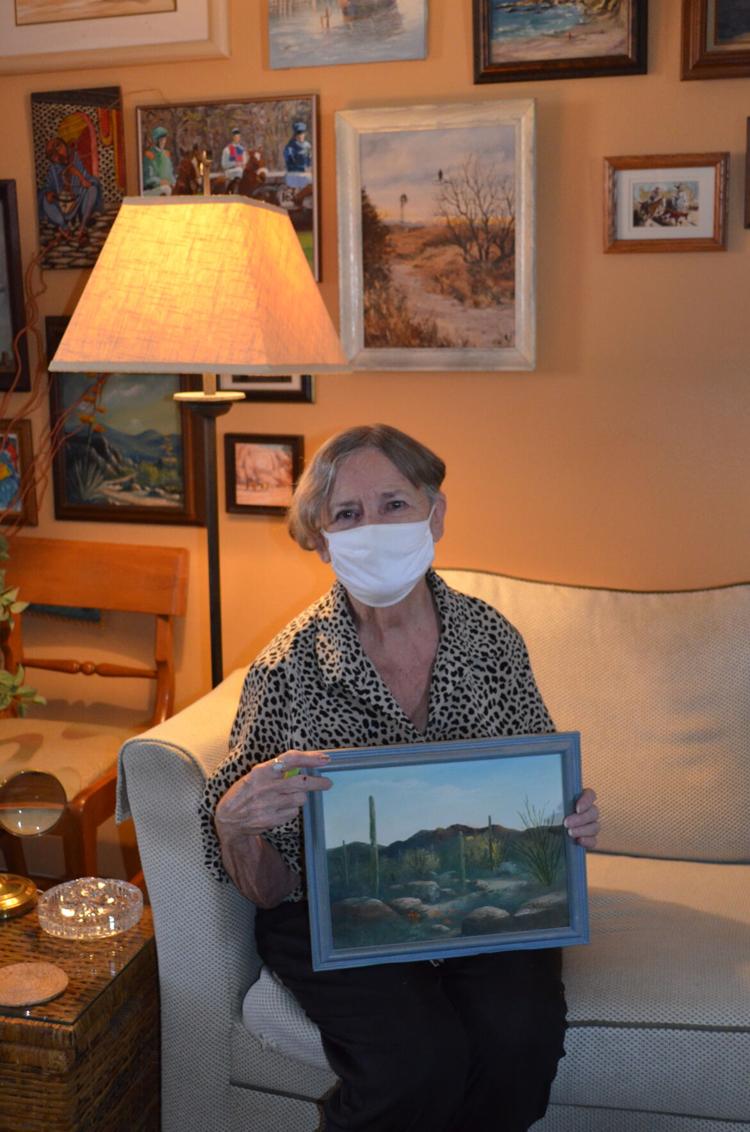 Ken hung each piece as Lynn selected the individual paintings. Her technique to make it all work? A sizable artwork as a centerpiece, with one or two smaller, complementary ones to add balance. Then she and Ken work in both directions, continuing to balance the choices.
They somehow hold it together all the way to the floor!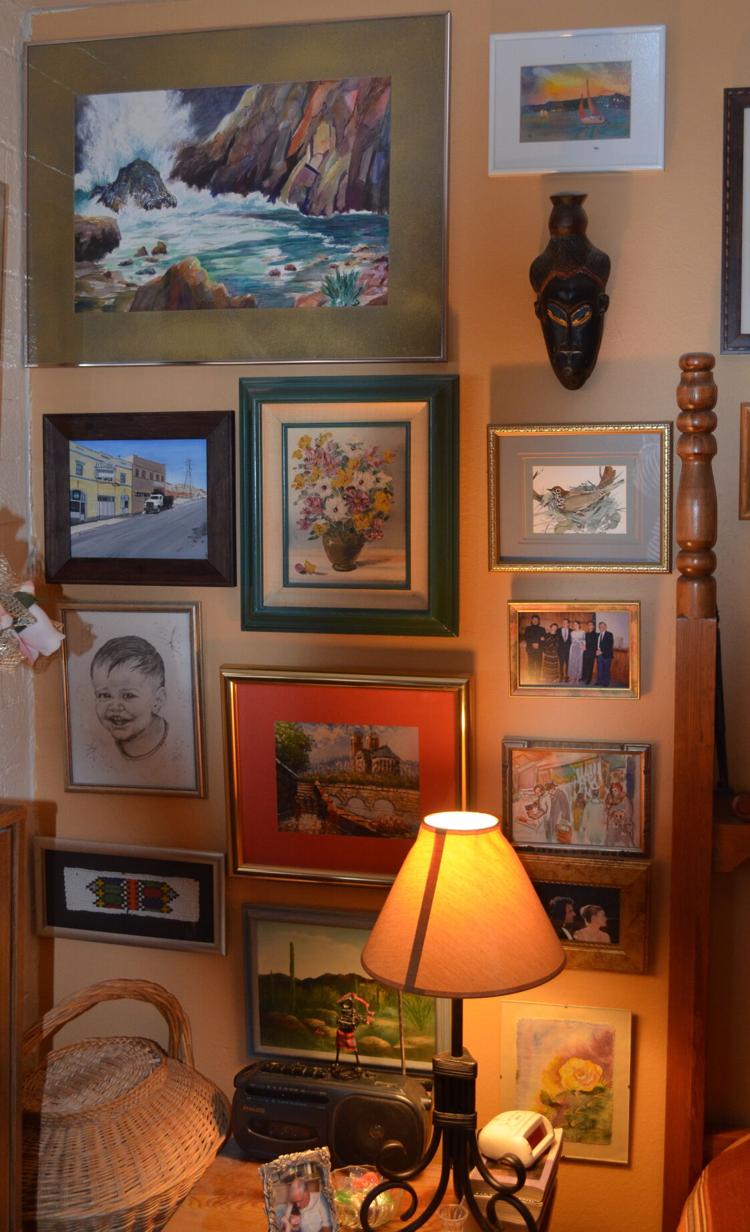 "I love art," Lyons says. And she was itching to get her paintings set up.
"I would creep in one or two at a time," and it took her three weeks to get it all set.
"If it's too much, I feel caught in a corner," she pointed out. However, her artistic ability rose to the challenge, and it launched her into creating photo collages of her grandchildren, as well as wedding photo collages.
A member of the Green Valley Arts & Crafts group, Lyon has been creating incredible photo collages for more than eight years now. And yes, it takes much patience.
"I do have some artistic ability," Lyons points out. "My soul is artistic."
And there's no doubt about that.