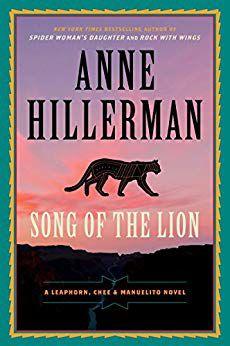 "Song of the Lion"
A deadly bombing takes Navajo Tribal police officers Bernadette Manuelito, Jim Chee, and their mentor, the legendary Lieutenant Joe Leaphorn, back into the past to find a vengeful killer in this riveting Southwestern mystery from bestselling author Anne Hillerman. When a car bomb kills a young man in the Shiprock High School parking lot in New Mexico, Bernadette discovers the intended victim was a mediator for a multi-million-dollar development planned at the Grand Canyon. But why? And who is the young car bomb victim?
What seems like an act of ecoterrorism turns out to be something far more nefarious and complex. Piecing together the clues, Bernadette and her husband, Jim Chee, uncover a scheme to disrupt the negotiations inflaming tensions between the Hopi and Navajo (Dine) tribes. In the meantime, Captain Largo, Navajo Tribal police chief, assigns Sgt. Chee to act as bodyguard for the mediator, a troubling and dangerous duty assignment.
Retired Navajo police Lt. Joe Leaphorn has seen just about everything in his long career. As the investigation unfolds, he begins to suspect the bombing may be linked to a cold case he investigated in past years. As he, Bernadette, and Chee carefully peel away the layers behind the crime, they make a disturbing discovery: a meticulous and very patient killer with a long-simmering plan of revenge.
Writing with a clarity and grace all her own, Hillerman depicts the beauty and mystery of Navajo Country and the rituals, myths and customs of its people in a mystery that builds on and complements the beloved, bestselling mysteries of her acclaimed father, Tony Hillerman. In addition to great stories, the Hillermans have provided great knowledge about the customs of the major Native American tribes in the Four Corners area of the Southwestern U.S.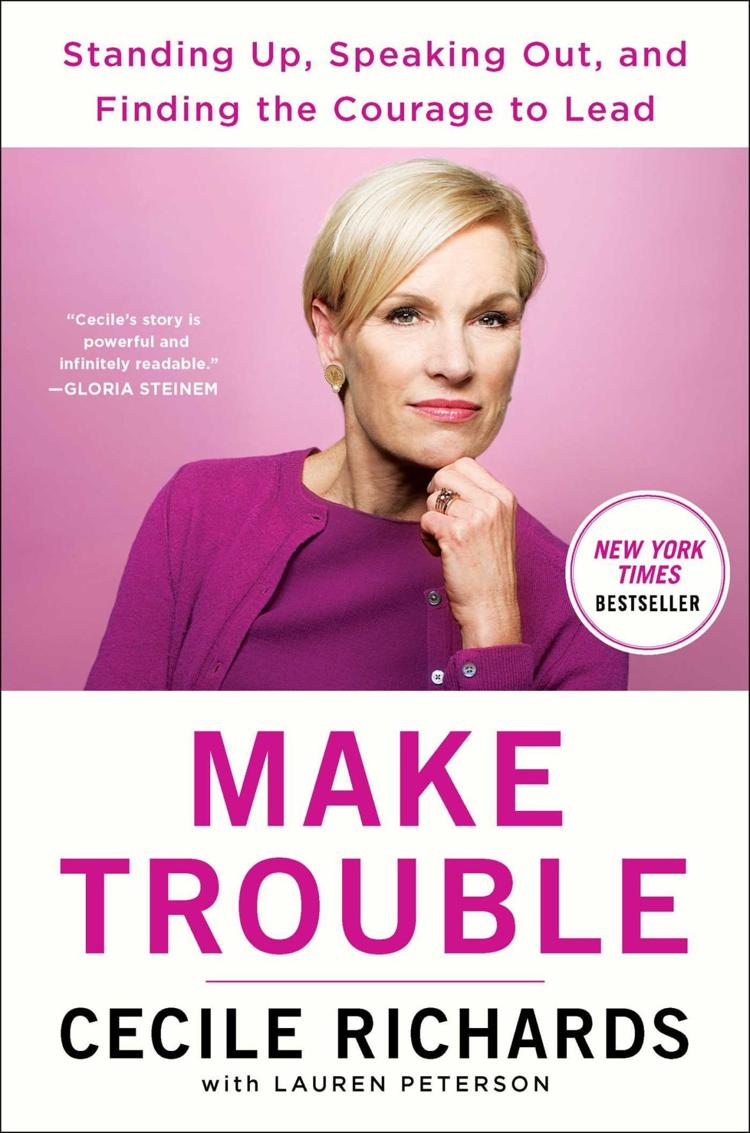 "Make Trouble"
Cecile Richards is perhaps best known for her 10-year presidency of Planned Parenthood Federation of America. But this personal and revealing book describes her long history working for social and economic justice before that high profile position. An activist since she was taken to the principal's office in seventh grade, by college she was organizing janitors for better pay and working conditions.
The subtitle of this book, "Standing Up, Speaking Out, and Finding the Courage to Lead," makes it both a memoir and a call to action. The subtitle aptly reflects the life and career of Richards — and her entire family. (She is the daughter of the late Ann Richards, the feisty governor of Texas in the 1990s.) It is also an admonition to all civil rights activists and would-be activists today.
Rich with details of her growing up, her marriage and three children, Cecile Richards emerges as down-to-earth, willing to share her life experiences, failures and successes, and her keen life and political observations. Starting her career as a labor organizer, Richards comes across as serious and hard working, fun and funny. Offering glimpses into various political battles and personalities, she also provides career advice gained from first-hand experience: "Never turn down a new opportunity;" take risks; make mistakes and grow.
The epilogue poses the question: "So now what do I do?" taking the reader full-circle to the book's title: "Make Trouble." Richards wants readers to know that working for social justice is hard work, that you don't win every battle, but that there is much satisfaction — and even fun to be had along the way.
"Maybe You Should Talk to Someone"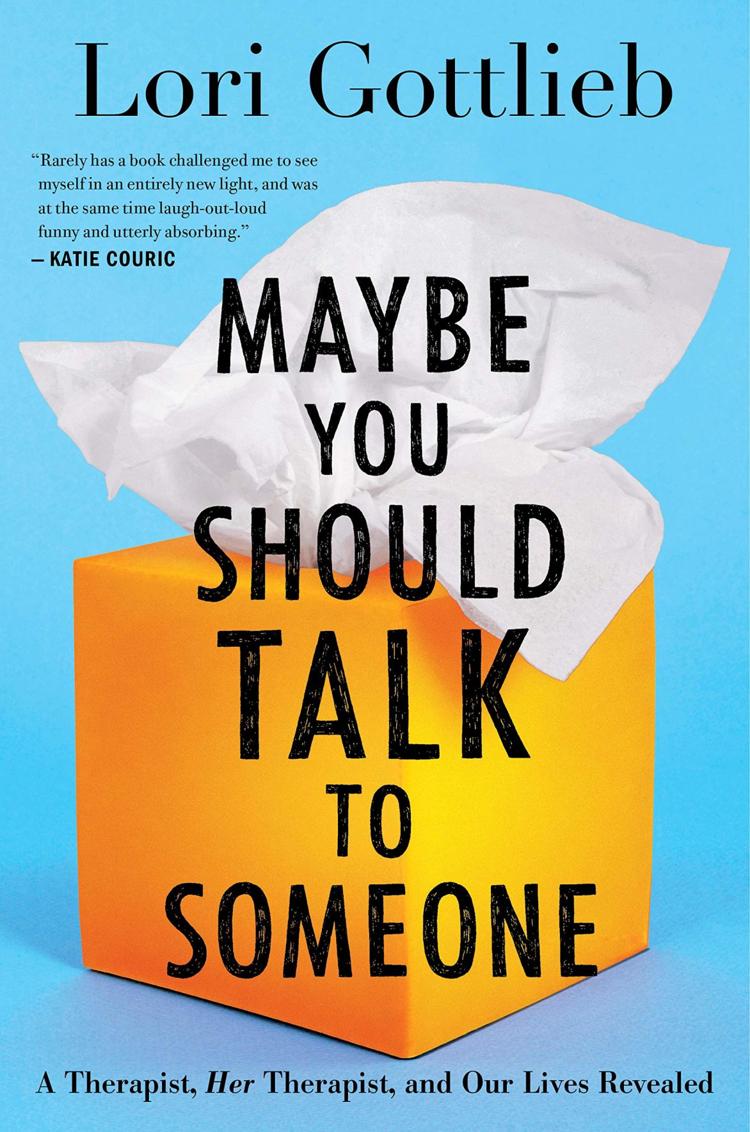 Houghton Mifflin Harcourt
Lori Gottlieb has done a great job of opening up the therapy room from both sides in this memoir about a therapist getting therapy while seeing her own patients, being helped while helping others. Gottlieb writes the "Dear Therapist" column for The Atlantic magazine, so she's no stranger to writing for the general public. That journalistic experience helps the book flow quickly and easily; it's tender, funny, and tearful — everything you want in good stories.
How do you give advice when your own life isn't going so well? The book answers that question, while engaging our hearts in the stories of ordinary people who could be our neighbors and relatives: a self-absorbed producer, a newlywed who's terminal, a woman who's always picking the wrong guys, a senior who thinks life isn't really much worth living anymore. Her own search for a therapist is catalyzed by her fiancé breaking up with her.
It's a cliché in the coaching and counseling world that being vulnerable, i.e., honest, is the key to changing your life, and Gottlieb demonstrates this interpersonal truth gently and kindly, but clearly, even as she tells her own therapy story. It's hard to turn that gaze inward in self-reflection; that's why Gottlieb herself gets help. She shows us that objectivity doesn't have to be cold, it can be kind. Some people haven't known a lot of kindness, and need that modeled. She shows us that other cliché, we're all alike under the skin: in the privacy of our own minds, we sometimes let rage and confusion take over — but we're also capable of great insight and compassion.
Maybe we should talk to someone when we need to be vulnerable with ourselves; maybe through the mirror of another's eyes we can see more kindly. Maybe we can talk to friends or family, maybe we can't. Gottlieb shows us that a therapist with the right training can help speed our recovery from emotional crisis, and she shows us what to look for. This has been one of my favorite books of the year, reminding me of the compassion and goodness in human hearts.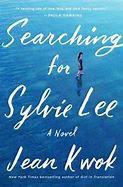 "Searching for Sylvie Lee"
Harper Collins Publishers
Some fledglings leave the nest and soar. Take Sylvie Lee, a Chinese immigrant who spiraled past her classmates at Princeton, MIT and then Harvard to become a highly sought-after businesswoman.
But for all her focus, dedication and success, there are aspirations she hasn't met. When she suddenly goes missing in the prime of life, it's up to younger sister Amy, a country mouse of sorts, to find her, and oh, what the search unveils.
In this beautifully written fictional work, author Jean Kwok takes inspiration from her brother Kwan, who was killed in a plane crash, to offer insight through several viewpoints on the joyful ups and heart-breaking downs immigrants face. Culture shock, struggles with tradition, family, obligation, and assimilating into new surroundings without sacrificing heritage. Have a hanky handy; this gets emotional, and that's even before meek, mild Amy hits the trail.
She's scarcely ever ventured beyond the confines of her family's small home in Queens, N.Y., least of all on her own to a foreign country. Although her newfound courage is thwarted at every turn, she's not giving up. Through her fortitude, years of family skeletons are unmasked, accounting for decades of questions, a peek for the players who shared more than they knew, and a story readers are unlikely to forget.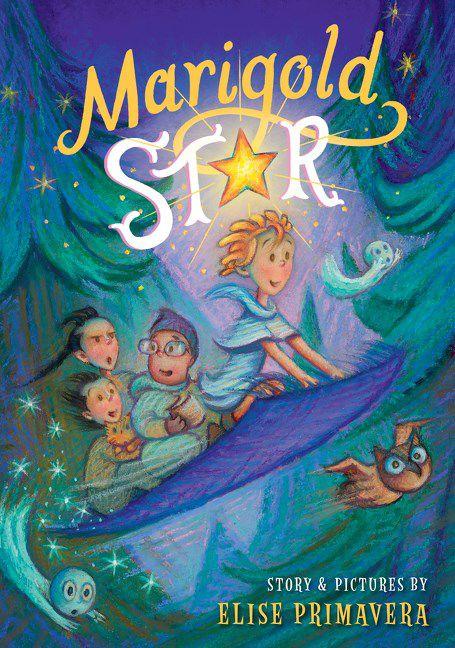 "Marigold Star"
This fantasy adventure — full of wonderful, quirky and endearingly odd folks, ghosts, and magical creatures big and small — makes a delightful read for youngsters in grades 3 to 7.
At home in the enchanted village of Bramblycrumbly, young Marigold knows the glowing star above her head means she's marked for greatness, as her parents say. But while her many friends, including her pet dragon, Bob the Woodcutter's son, and Granny Cabbage offer advice and encouragement, 8-year-old Marigold has yet to master the Invisibility Spell or learn to fly, and often misplaces her precious magic wand. And now, for some reason, her star is blinking on and off!
Tasked by Granny Cabbage to discover her own magic power, Marigold sets out on a quest and meets a bossy, friendless human girl who steals her wand, a lonely comic-book reading boy, as well as ghost children, a mysterious shadow boy and more. And it's through this fast-paced adventure that Marigold, who always sees the best in others, finally discovers her own magic power is being a life-changing friend to many!
As Primavera, a New York Times bestselling author and illustrator of "Auntie Claus" points out, "Marigold Star is a reminder to all of us that it is possible to embrace our differences rather than use them as a reasons to not be friends."
– Karen Walenga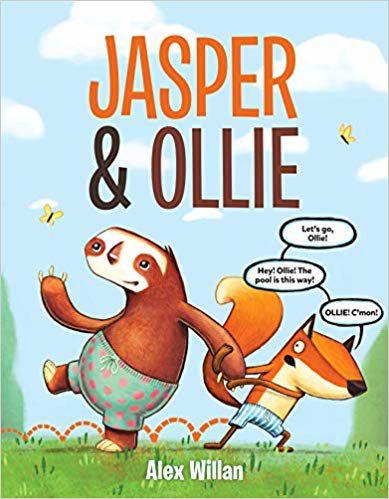 "Jasper & Ollie"
Doubleday Books for Young Readers
Jasper is restless for something to do and asks his best friend Ollie if he wants to go swimming at the community pool. When Ollie finally agrees, Jasper challenges him to a race. Though Ollie takes the same route as his friend, he chooses a very different course of action along the way.
This colorful, debut picture book by author and illustrator Alex Willan is sure to catch the imagination and engage the minds of young children. Using a deliberate sloth and an impulsive fox (the antics of one on the top of the page and the other's across the bottom), the author shows friendship has the ability to bridge all differences. With captivating images and a relevant message, this book is an outstanding teaching tool. But the best part — it's a rib tickling read for both parent and child.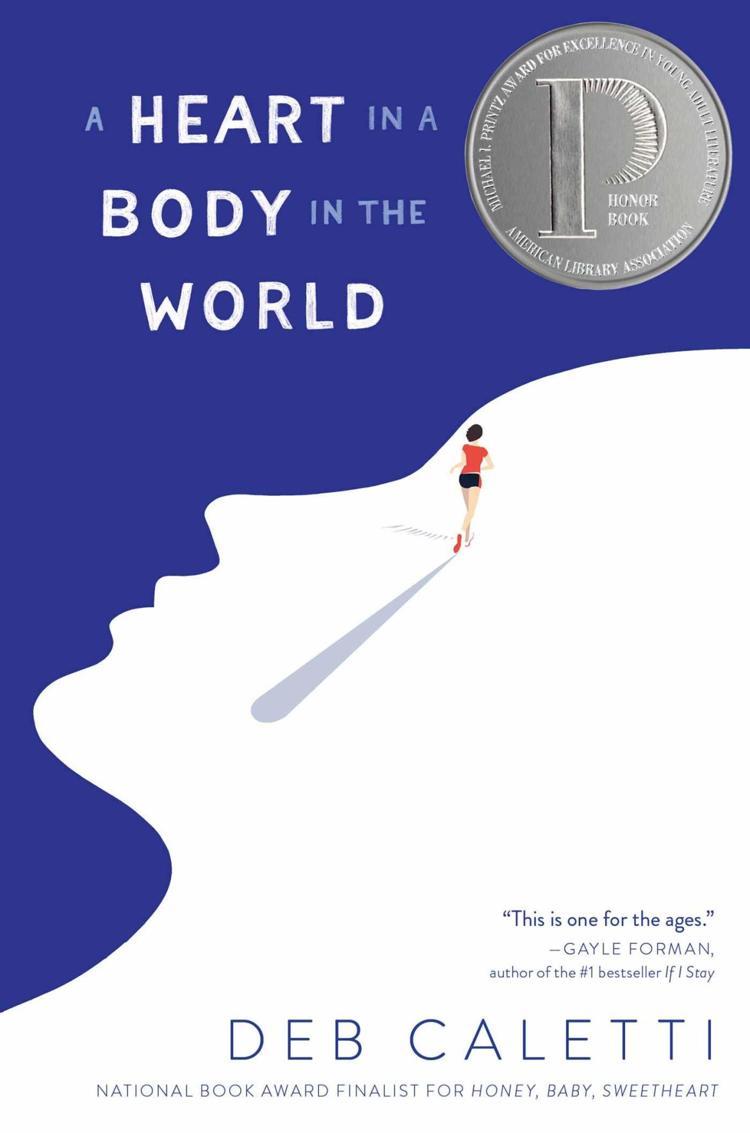 "A Heart in a Body in the World"
There are a few life-changing events that happen for everyone, but the added elements of tragedy and trauma change one's world in ways like no other. We don't know the details of Annabelle's tragedy — though we have good guesses — for quite a while. Teenager Annabelle is running from Seattle to Washington, D.C., trying to outrun her grief. I picked up the book thinking that it might give me insight into why people do these runs for a cause; it did. The story is told in the present tense as she runs; we learn through flashbacks about why Annabelle feels so guilty and powerless.
She's at the local hamburger joint and her PTSD is triggered and she starts running until she gets to the next town, with no intent and no plan; running means she's doing something, even if it's crazy. She just starts running, because she does track and that's her thing. Her family ends up supporting her decision and her grandpa follows along in his RV; Annabelle's family provide the perspective and comic relief necessary in a book that deals with dark material.
This is a young adult novel that gives a glimpse into the mind of a contemporary young woman in high school. The hormone-driven angst and bounce between hope and despair of adolescence is further exacerbated in our modern world, where nowadays even suburban and rural schools are fenced like prisons and predators stalk the halls (though that has always happened). Annabelle learns a lot on her journey, and is finally able to come to terms with the fact that her life will never be the same.
Interactions with her grandpa and people they meet along the way balance the grueling days of running and bleeding and Annabelle's circular thoughts, widening her world. Even though precious opportunities have been lost, love still surrounds her, and Annabelle finds the strength and resolve to reach out and live in hope again.
And I found out that people do this kind of thing because even when you feel powerless, you need to do something. Recommended.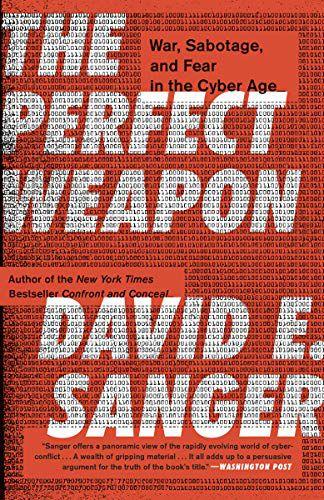 "THE PERFECT WEAPON:
Did the Russians hack into the 2016 U. S. election process? Were Iranian centrifuges thrown out of synch by Stuxnet, an American/Israeli cyber attack? Did North Korean missile tests fail because of malware planted in their control systems by either South Korea or the United States? Did the Chinese government steal blueprints of the F-35 American fighter plane? Did Iran successfully disrupt Saudi Arabia's Aramco office operations for several months? Was a high school student able to access encrypted Pentagon communication systems?
Unfortunately, the answers to each of these questions is probably "yes." Furthermore, the United States may be one of the most vulnerable countries in the world today in trying to protect itself against cyber attacks. The United States has powerful cyber weapons but so do hackers — state sponsored and individuals — all over the world.
Cyber warfare is stealthier than any stealth bombers can ever be. When attacked, the survivors won't find any identifiable bomb fragments lying around. Frozen or erratically functioning systems may be caused by mechanical internal problems; the work of an independent hacker just wanting to test what he can do; malware planted years previously allowing back door entrance to specific programs; the work of an internal employee; the strategic plan of an enemy state or ...?
As Sanger points out in this well documented book, the U.S. government needs to address the issue of cyber warfare more openly. To date it has not, wanting to keep its own, supposedly superior, cyber capabilities secret. It has not wanted to admit that an attack source cannot be correctly identified instantly, nor admit that while it knows how to play offense, it doesn't have an effective defense. In his book "Army of None," author Paul Sharre argues, "The system is so complex that it is incomprehensible, or opaque, to users and even the system's designers."
Is a cyber attack an act of war or is it a criminal act? What is the sensible response? To what extent have American communication platforms such as Microsoft Windows and Facebook provided the basic, very inexpensive tools with which to engage in stealing millions of dollars or spreading fake news around the world in seconds?
This book is well worth reading. Those who don't understand will expect the next war to be fought with better tanks, planes and bigger bombs. Could it be that T.S. Elliot was right when he said "the world will end with a whimper, not a bang"? Maybe the lights will just go out.
BOOK EVENTS
• Come listen, read your own poetry or share a favorite poem during the Poet's Corner informal gathering on Monday, August 12, and Thursday, August 22, from 2:30 to 4:30 p.m. at the Joyner-Green Valley Library, 601 N. La Cañada Drive. All are welcome.
• Page Turner's Book Club will discuss "Little Women," by Louisa May Alcott, on Monday, August 19, 2:30 to 4 p.m., at the library.
TOP TEN
The 10 most popular books at Joyner-Green Valley Library for the past month:
"The A List: an Ali Reynolds mystery," by J.A. Jance
"Where the Crawdads Sing," by Delia Owens
"Wolf Pack: A Joe Pickett novel," by C.J. Box
"Long Road to Mercy," by David Baldacci
"Dark Sacred Night," by Michael Connelly
"Run Away," by Harlan Coben
"Neon Prey," by John Sandford
"Redemption," by David Baldacci
"Past Tense," by Lee Child
"The Reckoning," by John Grisham